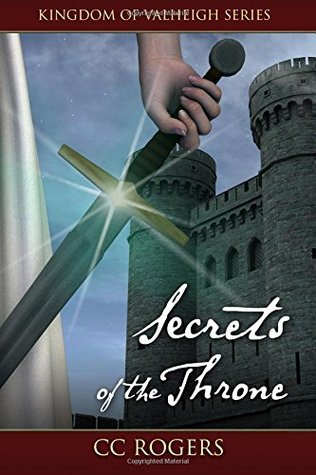 Genre: Fantasy, Romance
Publisher: Self-published (CreateSpace)
Date of Release: October 2015
Pages and Format: 268 pages; eBook
My Rating:
"Eighteen-year-old Lady Sharilyn Dawson yearns to sample the sophistication of the royal court. She recognizes an opportunity to leave her country home when she meets Lord Jonathan Redley, a widower who needs help caring for his young son. Life at the castle, however, is more perilous than she ever imagined.
As lords vie for the throne and an assassin stalks the night, Sharilyn must learn to navigate the treacherous waters of politics before they claim her life."
I received this book from the author in exchange for an honest review. 
*May Contain Spoilers* 
Lady Sharilyn Dawson dreams of visiting the capital and experiencing the life and culture of the court. Lord Jonathan Redley may be her ticket out, one way or another.
Lord Jonathan mourns the loss of his beloved wife Niacine, just barely existing for his son Justin. In Sharilyn, he finds friendship and hope for the future.
I felt this book had a lot of potential but it kind of missed the mark a bit.
In the typical fashion of an 18 year old, Sharilyn tends to kind of toss about marrying Jonathan. At first, she takes on the rather grown up stance that she could marry him for his position of power and that love isn't necessary, but she tends to flip flop a bit at first.
The slow courtship of the married couple at first was a little long winded and tedious. While I understand that Sharilyn was trying to respect Jonathan's need to grieve the loss of his past wife, it seemed to take forever while they found their footing.
There are also some wording inconsistencies. It seems to be set in a medieval age, which means some of the words used were far too modern. Words like "snack", "staff" or "shopping" are rather out of place in the setting. A snack would be a light meal whereas staff would be servants. These words just seemed very out of place.
It did pick up eventually. Soon some of the Lords of the different houses began to spread rumors involving Sharilyn and her new husband. Anything to shake up their relationship. The couple seems to handle these rumors with ease. Although those kinds of rumors would have done some damage to the credibility of Jonathan and his wife. Soon their world was strife with the possibility of an assassin coming for either Jonathan or King Edgar. Or both.
Sharilyn was also a bit independent in her thoughts, taking sword lessons from one of the guard. Even going as far to confront the King in his private quarters. It seemed that Sharilyn was not educated in the ways of the court before going there. Most young women her age would have been taught how to behave at court. Court was always a giant circus show of clothing, sables and who could impress who. It seemed to be a little lacking in that.
I did enjoy the book though. I was fascinated by the Jinn and the assassin's who seem to use Jinn magic. I'd definitely be more interested in learning about that side of their world.
This will be cross posted to GoodReads.
Meet the Author:

 CC Rogers is the mother of two wonderful children, the wife of a supportive husband, and the creator of the webcomic Rune: a Tale of Wizards and Kings . A software engineer who fell in love with making 3D art using DAZ Studio, CC recognized that she could use DAZ to make sequential art. In 2008, she collaborated with Diana Laurence to make a short comic in the Bloodchained universe called Sign of the Bloodletters . She started writing and illustrating the webcomic Rune: a Tale of Wizards and Kings in 2009 and released it as a graphic novel in 2012. Two subsequent books ( Wizards and Kings: Sacrifice and Secrets of the Throne) are set in the same universe as Rune.
Website | GoodReads |
Where to Buy:
Amazon US
Amazon CAN
Barnes and Noble
Kobo