Genre: Horror, Thriller, Short Story
Publisher: Smashwords
Date of Release: February 8, 2016
Pages and Format: 29 pages; eBook (ePub)
My Rating: 
"You Have Been Murdered and Other Stories is a collection of weird, speculative fiction containing four stories dealing with the end of the world, both in terms of the death of the individual soul and the running down of the universe as a whole.
The title story presents a woman who's been murdered and still has a dinner party to prepare for. In "Teller of Tales," a young girl must take on the responsibility of being the necessary conscience of her city. "Breach of Contract" describes the plight of an oil man who just wants to insure production quotas, but is roped into saving the world. Lastly, "The Trouble-Men" details what happens when a man trying to survive the end of the world meets up with those who are ending it." 
I received this eBook from the author in exchange for an honest review.
This is an interesting little collection of weird and unusual short stories. You know, the kind that leaves you wishing for more? Yeah, those.
The first tale, "You Have Been Murdered," reminds me of a zombie retaining it's last moment memories.
The "Teller of Tales" is definitely taken from a dystopian society, where a young girl is tasked to keeping her societies secrets. It's almost like a coming of age tale.
"Breach of Contract" was a bit weirder for me. I was also a bit more lost as to what was going on. Reminded me a little of Killer Tomatoes, haha.
The last tale, "The Trouble-Men" was my favourite tale. It's amazing what people will tell others when they're faced with their death.
It's well worth the read and at 29 pages, it's perfect.
Where to Buy: 
Amazon CAN | Amazon US | Kobo
Meet the Author: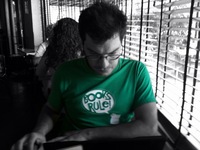 Andrew Kozma's fiction has been published in Albedo One, The Cupboard, Fantasy Scroll and Daily Science Fiction. His poems have appeared in Blackbird, Subtropics, Copper Nickel, and Best American Poetry 2015, and his book of poems, City of Regret (Zone 3 Press, 2007), won the Zone 3 First Book Award. He has been the recipient of a Jentel Residency, a Houston Arts Alliance Fellowship, a Walter E. Dakin Fellowship, and a D. H. Lawrence Fellowship. He lives and writes in Houston, Texas.