I was nominated by the wonderful Novel Gossip for this award. Thank you so much for nominating me!
The rules are as follows:
Thank and link the blogger that nominated you.
Answer the 7 questions that the nomination has provided you.
Create 7 questions for your nominees.
Nominate 7 other bloggers.
Novel Gossip's Questions for me:
1. Favourite series:
Hmm I would have to say the Shadowfell series. Although there are a couple of runner ups like obviously Harry Potter, The Wolves of Mercy Falls series, annnddd Anita Blake series.
2. Most under appreciated book you've read: 
This is a tough one as I do read for indie authors so a lot of those books are under appreciated. It's a bit tough for me to choose, honestly. There are so many really great authors out there and I'm quite glad that a chunk of them have chosen me to help them gain awareness of their books. 
3. Favourite book you've reviewed:
I would have to say my favourite book that I've read and reviewed so far this year would be a toss up between Ripping Solace by Gabriela Aguilar and Cora and the Nurse Dragon by H.L. Burke.
4. Favourite book cover: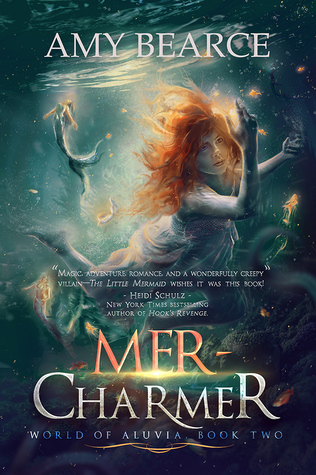 Well, I would have to pick Mer-Charmer by Amy Bearce. It's absolutely stunning! 
5. Do you ever borrow books from the library? If so, do you return them on time or late? 
In my hometown I did because the library there was a place of peace. But when I moved to the big city, it never happened. I'm hoping that moving home to live with family that I can pick it back up. And for the record, I usually returned them on time. Sometimes early. If it was late, it was usually due to weather. Or just a really crappy week. 
6. Why did you start your blog? 
Well, first because my friends were always asking me for recommendations and with recommendations came my opinion of said book. So I started the blog to start sharing my love of reading. I first started on Tumblr but didn't quite like the style there, so researched and chose WordPress. Second, I started it because even though friends ask for recommendations, I honestly have no one else to talk to about books. Everyone else thinks I'm nuts, lol. 
7. Do you have a favourite snack/drink while reading?
Hmm, not really. My morning coffee, haha. I guess that would be it, but my life is pretty much surrounded by books so I rarely think about the snack/drink part. 
My Questions for my Nominees:
What is one of your reading habits?
Where is your favourite place to read?
What are your least favourite genres?
What is your preferred method of reading? Physical book or digital?
In your opinion, which movie that was originally a book was actually good and worth seeing?
Which book had a lot of hype but was utterly disappointing?
What is your favourite book at the moment?
My Nominees: (If you've already been awarded/participated or don't feel like participating, that is okay with me!)
Thank you, again, to Novel Gossip for the nomination! If you haven't checked out these blogs yet, I definitely encourage it!