Genre: Young Adult, Horror, Zombies, Apocalypse, Romance
Publisher: CreateSpace
Publication Date: May 28, 2012
Format: ePub
Pages: 238 pages
Add to Good Reads
4.50 Stars
Seventeen year old Cassandra Wild thought living in the chaos of her mother's home daycare and dealing with her developing feelings for Bryce, her new Martial Arts' instructor, was a struggle, until the night her world turned upside down.
When an untested vaccine kills more than just a rampant flu virus, Cassie learns how to survive in a world where the dead walk, and the living…run!
For a zombie story, this was a really surprisingly good start. The characters were developed well and the story seemed to have a path it was trying to take.
One thing I definitely enjoy from author's who chance at writing zombie apocalypse tales is that they start at the beginning. No offense, but I like to know why the world went BOOM and why the dead walk again, not just be launched into mid-survival.
Cassie is one serious tough cookie. She is a karate student and is well versed in weapons, on the insistence of her father. I definitely would want her by my side in a zombie apocalypse. I enjoyed seeing that one side of her and then that vulnerable side where she begins to have feelings for her new martial arts instructor.
Bryce actually seemed older than his 19 years. So it was a little weird to see Cassie enamored with him, but as he opened up more and discussed his family life, it was understandable why he seemed so much older. I'm not going to ruin it though, you'll have to find out why the hot martial arts instructor is the way he is.
There were a few minor editing error's but nothing that took away from the story line.
However, noted, don't get vaccinated by an untested vaccine. You might turn into a human chomping zombie!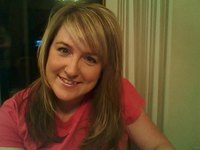 NY Times and USA Today Bestselling Author, Kristen Middleton, is from the Midwest and not only enjoys writing, but connecting with her readers. Kristen also writes gritty biker books under the name Cassie Alexandra. She is also involved with raising money to help locate missing and exploited children, helping other authors succeed by sharing what she's learned in the self-publishing industry, and volunteering resources or her time whenever she can. "Besides having a passion for writing, I adore children, suspenseful movies, watching Shameless and The Walking Dead, traveling, Moscato wine, Chianti Grill, Savoy Pizza, and meeting new friends."