Genre: Young Adult, Horror, Zombies, Dystopian
Publisher: Dark Shadows, LLC
Publication Date: July 6, 2012
Format: ePub
Pages: 210 pages
Add to Good Reads

Cassandra Wild is on the run from a deranged psychopath while she fights to stay alive during the zombie apocalypse. After being kidnapped, injured, and thrown together with a new band of misfits, things get more complicated, and it takes all of her strength and courage to survive in a world gone completely mad.
Cassie, how do you keep allowing yourself to be separated from your friends and family? Sheesh. Mind you, this round she was captured by a psychopath ill with the zombie virus. It seems to make them do violent things to the people they care for. But she does escape Austin the Soldier. But crashes into two new friends, an elderly man named Henry and his nurse Mary. She also meets a bus of drag queens. They were great comic relief and helped Cassie get back to her family.
Bryce though. Dude! Seriously! How dense are you?! He knows that Cassie is mad about him and he chose to believe the Princessy character Eve/Eva. Also, duh, the girl is flirting with you. Not trying to be your friend.
I kind of hoped that Bryce would retain his intelligence but he was kind of reduced to needing a dunce cap.
This book was good. Of course, not as great as the first one was. There were a lot of errors in this book though. Inconsistencies names and some editing issues. No matter what, always try to find someone who is willing to edit for you. It really helps having another set of eyes to find errors.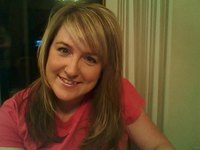 NY Times and USA Today Bestselling Author, Kristen Middleton, is from the Midwest and not only enjoys writing, but connecting with her readers. Kristen also writes gritty biker books under the name Cassie Alexandra. She is also involved with raising money to help locate missing and exploited children, helping other authors succeed by sharing what she's learned in the self-publishing industry, and volunteering resources or her time whenever she can. "Besides having a passion for writing, I adore children, suspenseful movies, watching Shameless and The Walking Dead, traveling, Moscato wine, Chianti Grill, Savoy Pizza, and meeting new friends."
Connect with Kristen