This is a new series as I go through the books that were turned into movies that I've enjoyed.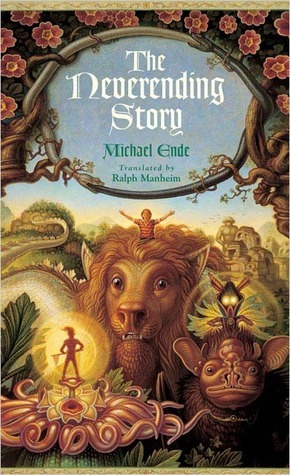 Genre: Middle Grade/Young Adult, Fantasy, Classics
Publisher: Dutton Children's Books
Publishing Date: 1997 (originally pub 1979)
Format: Paperback (own copy)
Pages: 396
Add to Good Reads
My Rating
4.50 Stars
About the Book
This epic work of the imagination has captured the hearts of millions of readers worldwide since it was first published more than a decade ago. Its special story within a story is an irresistible invitation for readers to become part of the book itself. And now this modern classic and bibliophile's dream is available in hardcover again.
The story begins with a lonely boy named Bastian and the strange book that draws him into the beautiful but doomed world of Fantastica. Only a human can save this enchanted place–by giving its ruler, the Childlike Empress, a new name. But the journey to her tower leads through lands of dragons, giants, monsters, and magic–and once Bastian begins his quest, he may never return. As he is drawn deeper into Fantastica, he must find the courage to face unspeakable foes and the mysteries of his own heart.
Readers, too, can travel to the wondrous, unforgettable world of Fantastica if they will just turn the page….
My Review
Growing up, The Neverending Story (especially the first movie) was part of the collection of movies that would single-handedly corrupt me for life. Labyrinth was the first and foremost, if you needed to know. Haha. No shame in the horrible sobbing because of the loss of Artax. (His death is much different in the book.)
Although I must say that it was the first two Neverending Story movies that enthralled me. The third subsequent movie was not to my taste. Falkor's voice in it, shudder.
When I learned that the movies had a book, I had spent many years looking for said book. It was on that "if I find it, no matter the price, I will get it" list that I have in my head. This list annoys my dad's partner because when she asks, I can never think of what is on the list. When I see the books, I know.
Anyhow, in a magic second hand store is where I found The Neverending Story. My friend Jamie and two of his friends and myself had a day of books, comic book stores and really good food. I found my precious in this store, nestled between other classic stories I had very little interest in. I may have squealed a little and danced a small "I found it!" jig. This is entirely out of character for me as I have agoraphobia and social phobia, and was gazed upon with amusement. I do this when I see other shinies that I want. Shiniiiies! (If you play Guild Wars 2, you will understand.)
Book Bastian, is possibly the most unlikable character. While I understand he is neglected emotionally by his father and horribly bullied; he is just the most unattractive of characters. He is spoiled, sullen, and very selfish. As the book goes on, he does become more unlikable. I'm sure he was written that way for the book to shape him but ugh.
The first movie, which features a moderate portrayal of the first half of the book, movie Bastian was much more tolerable. He was more bookish and a little more rebellious in the movie. He wasn't as insufferably selfish and spoiled. But he was horribly bullied, the poor thing. I enjoyed his vast book knowledge as well.
When the second half of the story came, Bastian was even more insufferable. I guess that is because AURYN was stealing his memories every wish he made, but gah. Even the movie version of Bastian was as terrible. He treated his friends terribly and linked up with the beautiful but dangerous Xayide. The movie's second half was a very loose portrayal of the second half of the book.
The ending for Xayide in the book was a little dark, but the movie ending was perfect. Especially because she used her charms and trickery to lure Bastian into using AURYN more and more.
Like most fairy tales, each story has a moral to it. The first half of the book talks about a world where children are growing up surrounded by an electronic world and forget about the written worlds. Thus Fantastica/Fantasia begins to disappear into "nothingness". The werewolf in the movie and book represented the dreaded The Nothing that was devouring the world. In the book it was a being that could walk in both the fantasy world and the human world, and he was to destroy Atreyu to prevent Atreyu and Bastian from finding the cure for the Child-Like Emperess. Although, who the heck names their child Moonchild? At the time of the movie, Bastian's mother would have been too old for the days of the Hippie's and their unique names for children.
While the second half of the book and movie, it was a moral of not allowing yourself to get lost and to forget your world. As Bastian lost his memories of his family and life outside Fantastica/Fantasia, but it taught him that his father truly did care for him.
I honestly wouldn't recommend either the movies or the book for anyone under the age of 8 or 9. Even then, it might be pretty difficult for them to understand. Whoever translated the story from German managed to use words that are difficult to understand, even as an adult. Thank you translator. But I do recommend it as a read for your children. It is a great book to awaken a love of fantasy and because it is a never-ending story, it is one they can go on again and again.
Where to Buy
Amazon CAN | Amazon US | Barnes & Noble | Chapters/Indigo
About the Author
 Michael Andreas Helmuth Ende was a German writer of fantasy and children's literature. He was the son of the surrealist painter Edgar Ende. He died in Stuttgart (Germany) of stomach cancer.
Ende was one of the most popular and famous German authors of the 20th century, mostly due to the enormous success of his children's books. However, Ende was not strictly a children's author, as he also wrote books for adults. Ende claimed, "It is for this child in me, and in all of us, that I tell my stories," and that "[my books are] for any child between 80 and 8 years" (qtd. Senick 95, 97). Ende's writing could be described as a surreal mixture of reality and fantasy. The reader is often invited to take a more interactive role in the story, and the worlds in his books often mirror our reality, using fantasy to bring light to the problems of an increasingly technological modern society.
Ende was also known as a proponent of economic reform, and claimed to have had the concept of aging money in mind when writing Momo. He was interested in and influenced by anthroposophy. (via GoodReads )